Daehling Ranch Thoroughbreds, Elk Grove, CA
Your full service breeding and training farm
Affordable to the small breeder
---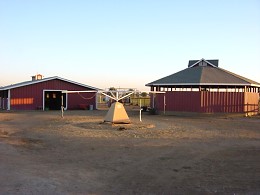 At Daehling Ranch our specialty is breeding, foaling, and raising young horses. Our veterinarian, who specializes in reproduction, comes to the farm three to four times a week. Our electronic foaling system is constantly monitoring the pregnant mares so that we are notified immediately when a mare begins foaling. The foals grow up on the farm until they are two years old when they are broke to ride. Our training facility has a covered round pen with state of the art synthetic footing, a hot walker, a riding arena, and an all-weather 3/8 mile track with a starting gate. Our biggest reward is hearing that one of our foals has won a race!
Our 400 acre farm is conveniently located 15 miles south of Sacramento, along the Cosumes River and 1.5 miles east of Highway 99.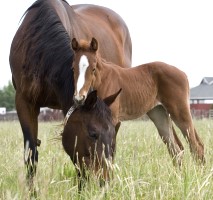 The horse operation uses 280 acres of the farm, including 200 acres of intensively irrigated pastures. These pastures are fertilized twice a year, so that they produce tall grasses and lush clover. The horses are kept in small, compatible groups and moved weekly to give the grass a chance to grow. In addition, all horses are fed grain daily; nursing foals are fed free choice grain in a creep feeder.
The remaining 80 acres are used for winter paddocks for the rainy season. These large paddocks have shelters and firm footing in the feeding areas. Mud fever or hoof abscesses are almost non-existent. The irrigated pastures as well as the dry paddocks are divided into safely fenced areas varying from two to ten acres in size. There are 50 Thoroughbred sized stalls at the farm. Most of them have a small paddock attached.